Step 1: Enroll for Flash sales
Seller can enroll for Flash sales by 2 ways: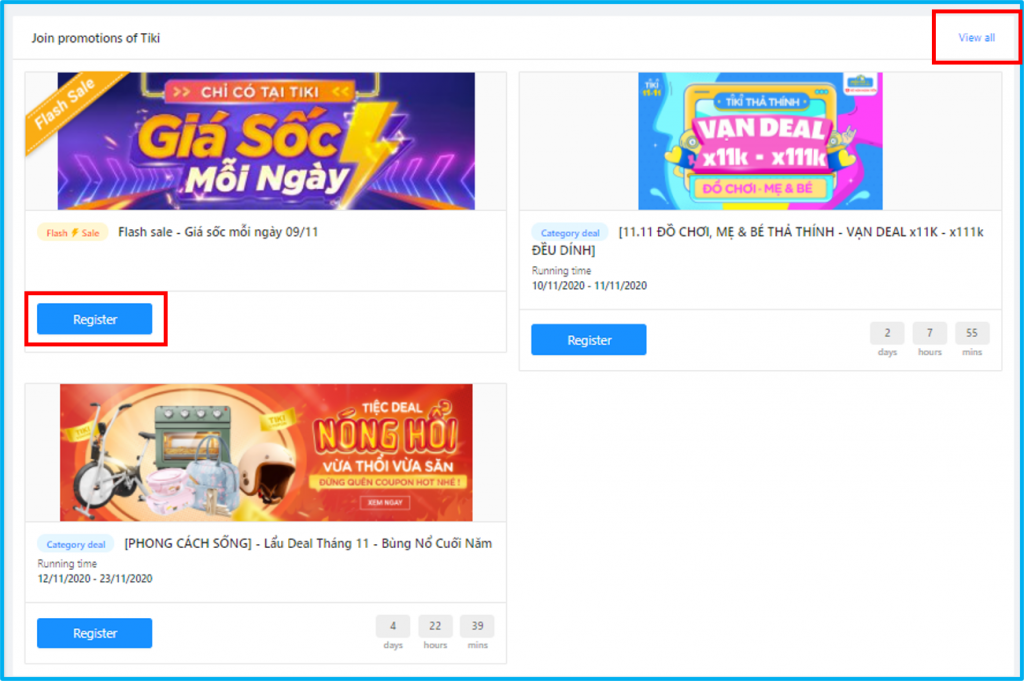 Case 1

: Seller Center – Homepage – Join promotions of Tiki

, Sellers will see a Flash sales widget, then click on

Register

or

View all

that link to

Campaign List

page as below,

where sellers can choose a specific FS campaign to register.
Case 2

:

At

Home page

, from the menu list on the left-hand side, sellers choose

Promotions

/

Campaigns

to reach Campaign List page

.

Sellers can choose any campaign to enroll by clicking on "Register"

Campaign List

page  displays 3 tabs to help sellers manage easily:

Upcoming, Running, Finished.

Upcoming

tab

:

Calendar to show an overview of upcoming campaigns

(Flash sale: orange; Category Deal: green).

Note:

calendar will specify only a starting day of a campaign

.

Filter:

Flash sales

or

Registered campaign

only

List of upcoming campaigns will be shown below based on the time/filter Sellers choose above.

Running

tab and

Finished

tab display:

View detail: go to campaign detail page

View report: link to Growth Center to view Campaign performance report
Step 2: Add products
Case 1: Add product directly
After clicking on "Register", screen will display 2 tabs:
Campaign Info

: All campaign information is displayed in this tab. 

Registered Product

: This tab displays the product list with its status.
Step 2.1.1. Sellers can add product directly at both tabs Campaign Info and Registered Product by clicking on Add product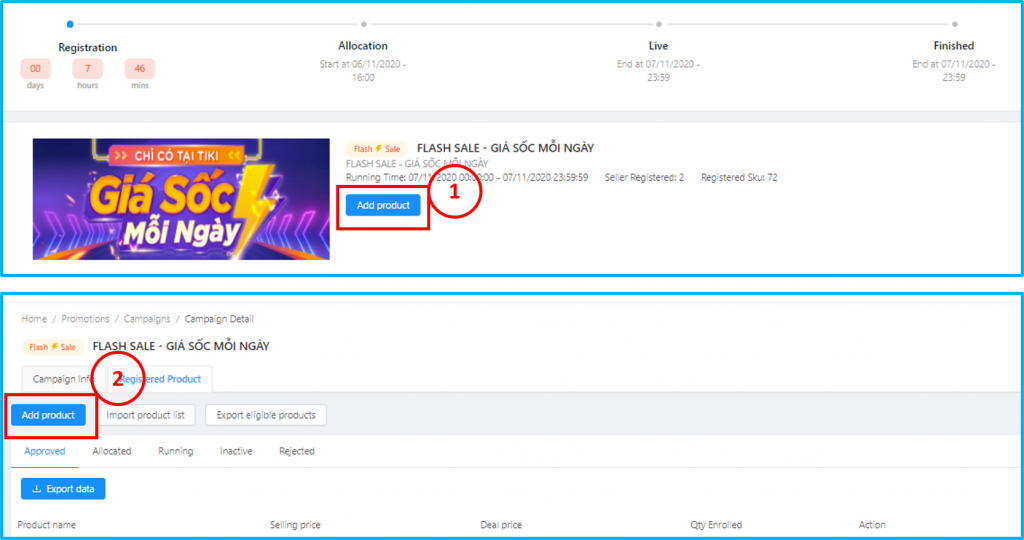 Step 2.1.2. This screen will display the eligible product list.Sellers can choose products to join.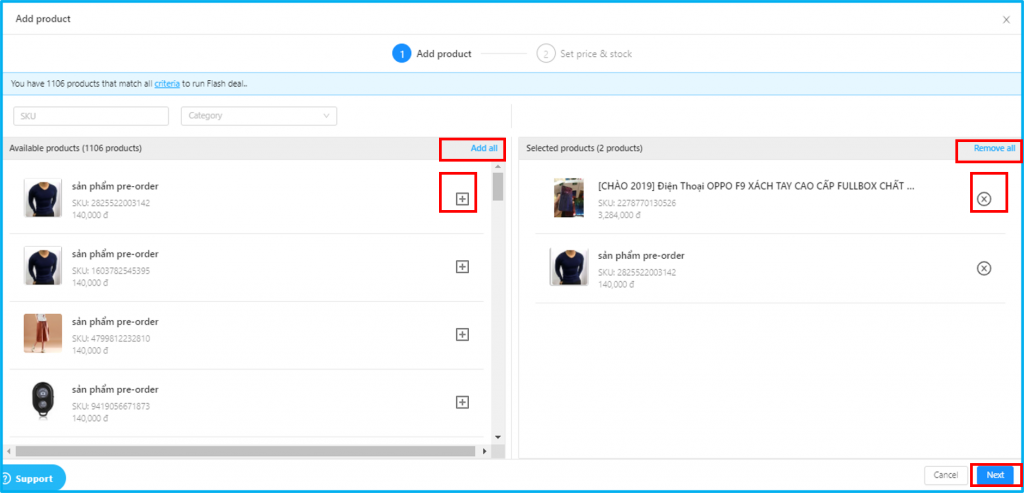 To

add,

sellers choose products from the left table and click on "

+"

 or

Add all 

To

remove

, sellers choose products from the right table and click on "

x

" or

Remove all
After selecting products, Sellers click on Next to set price and stock.
Note: This will suggest only products which pass following criteria: 
Sales history: 10 quantities sold

or

revenue > 5 Million VND in the last 30 days.

SKU rating should be >=3  or have no rating.
OR:
Step 2.1.3: Setting price and stock

Tiki's system will automatically suggest price and stock to be able to join Flash sales, Sellers can keep it the same or change it, then click on Submit. 
Detail:
Deal price

: deal price must be equal or less than suggested price 

Quantity enroll

: Quantity of stock must be equal or greater than suggested quantity
Note: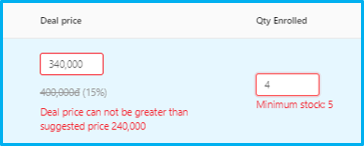 In case sellers input their own price and stock, but still want to see the suggested price and stock again, they can hover to see them.
Case 2: Mass import products
Sellers can mass import products for Flash Sales by importing a file at tab Registered product:
Step 2.2.1. Download eligible products file, including suggested price and stock.

Format 1: Sellers click on Export eligible products to download import file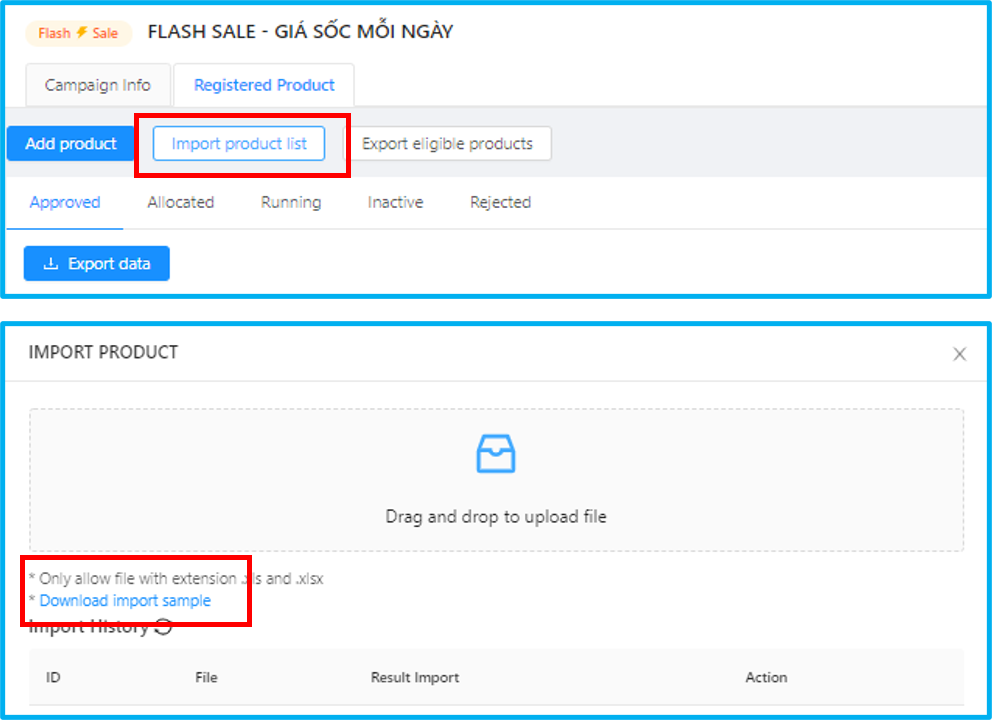 Format 2: Sellers click on Import product list, then click on Download import template.
Step 2.2.2. Fill Deal price and Quantity enroll in import file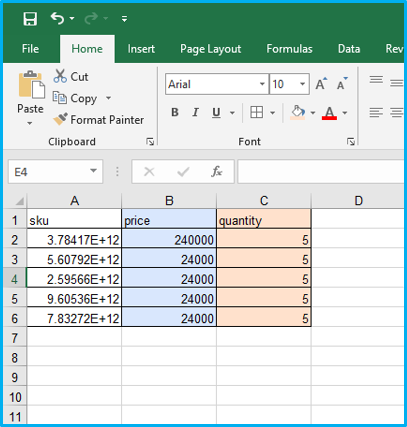 Note: 
Deal Price

<=

Suggested Price

Quantity Stock

>=

Suggested Stock
Step 2.2.3. Import product list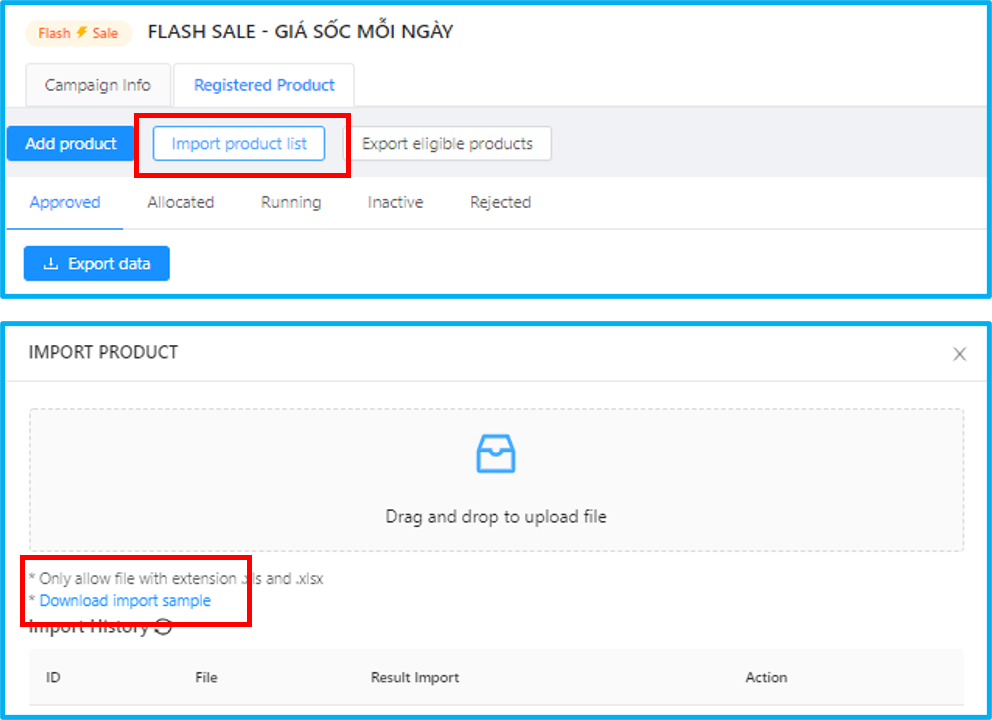 Sellers click on Import product list (1), then click or drag the file to upload (2).
Step 2.2.4. Check import result.

Import history will list all files that you imported together with Result and action to download the files. Sellers may see some status like "Not yet processed", or "Processing", it is due to a large number of files importing for the whole system. Sellers can click the icon "Refresh" next to the Import history, to get the result more quickly.
Step 3. Check product list 

After sellers submit the selection, the system will automatically approve SKU for Flash sales based on the price and stock that sellers input. Sellers can check approved SKUs in the tab "Approved". 
In the "Approved" tab (before allocation time),  sellers are able to edit the price and stock by clicking on "Edit" or to remove product by clicking on "Delete" as above.
Sellers can export data to view all product list equivalent to status in each tab.