Creating a new product interface has a lot of changes in both content and appearance, now, creating a new product is easier. Sellers need to do step by step as below: 
Step 1:
At Product, choose Create/List product, in that screen Sellers click on Get Started in  Create New Product section.

Step 2: Fill in information, including 4 sections: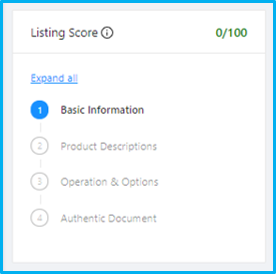 Note: 


To view all drafts saved, at

Product List,

Sellers choose

Request for Approval

tab, then click on

Draft

section. This section will display all drafts.

1. Basic Information: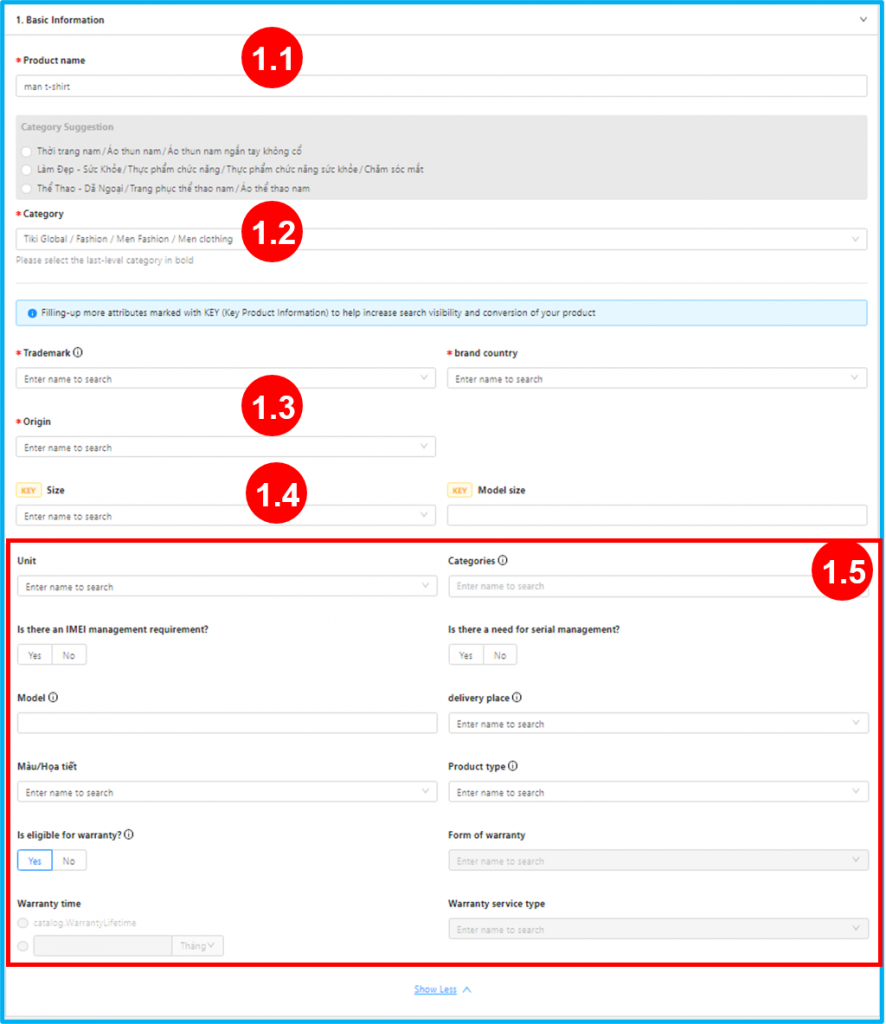 a. Required sections:
1.1 Product name: Sellers noted to name products in accordance with Tiki standard here.
1.2 Category: Your category will be suggested automatically based on the product name, Sellers must choose the product's category correctly.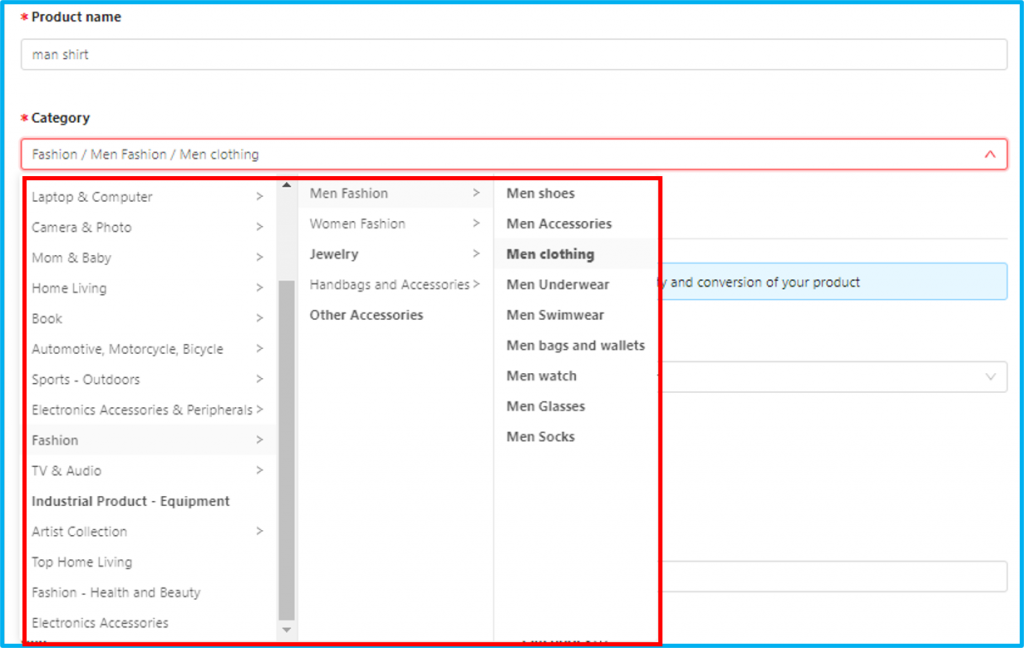 1.3 Trademark, Brand country, Origin: Sellers can search for the name or create a new one  for these 3 sections.
Note: 
To create a new selection, Sellers click on Create new trademark then fill in name as below:

1.4 Size, Model Size: Sellers should fill-in all information that is marked by KEY to increase searching capability of products. 
b. Not required sections: 1.5 include of: 
Note: Warranty information: Global Sellers must choose No for this section.

Sellers should fill-in all these information to increase the ability to convert into orders.
2. Product Descriptions: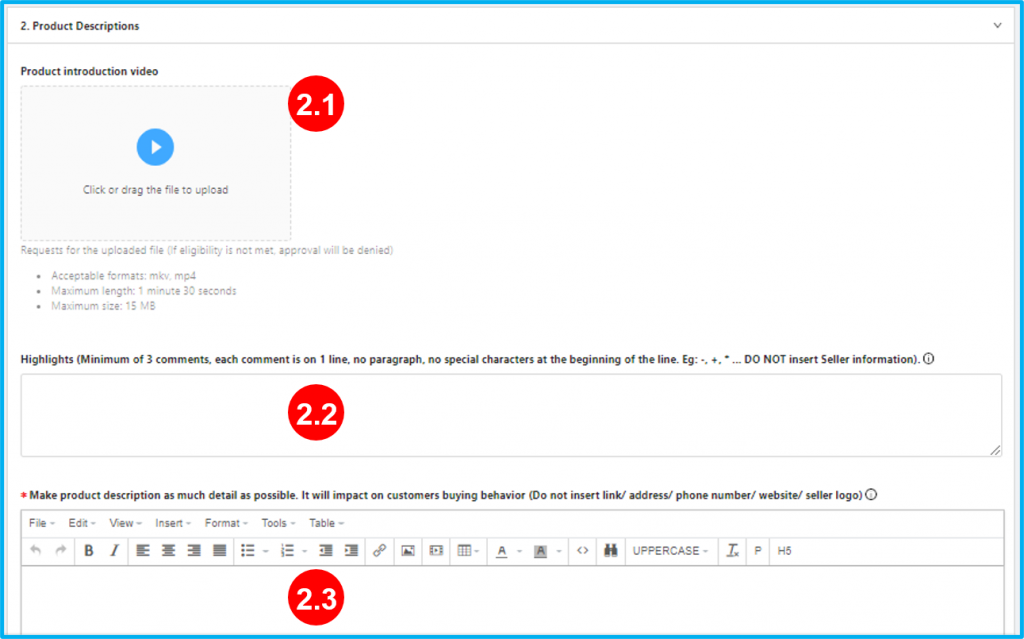 2.1 Product introduction video: This is a new feature, Sellers can add videos to help Customers have a better view of the product.
Note: Video must meet the requirements of the system. Learn more about image standard here 
2.2 Highlights: Sellers should fill in all advantages of the product and use key-words to increase searchability
2.3 Product description: This is a required part, Sellers must fill in detailed information about the product.

All these sections will help to increase searchability, Sellers should fill-in as much details as you can.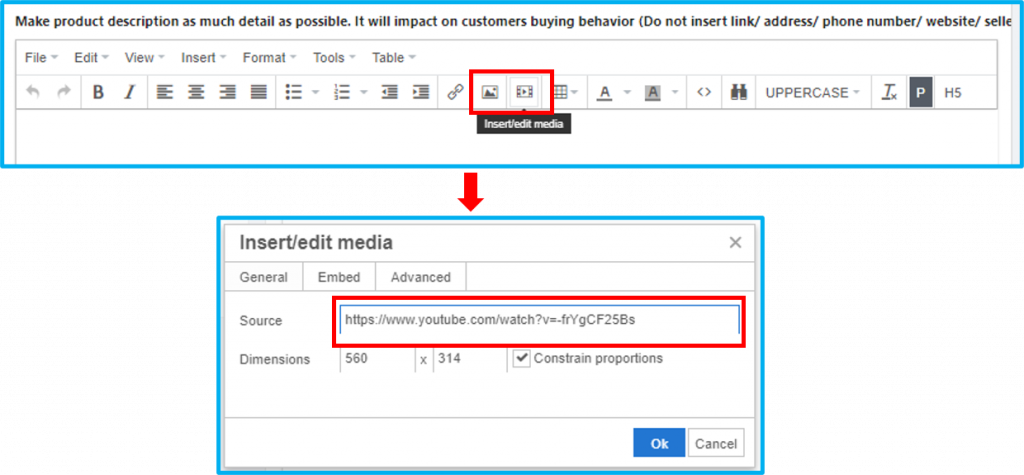 To insert video/picture, Sellers click on icon Media, then add a youtube link to insert video.
2.4 Material
2.5 Storage instructions 
2.6 Storage / Laundry instructions
2.7 Model measurements
3. Operation and Options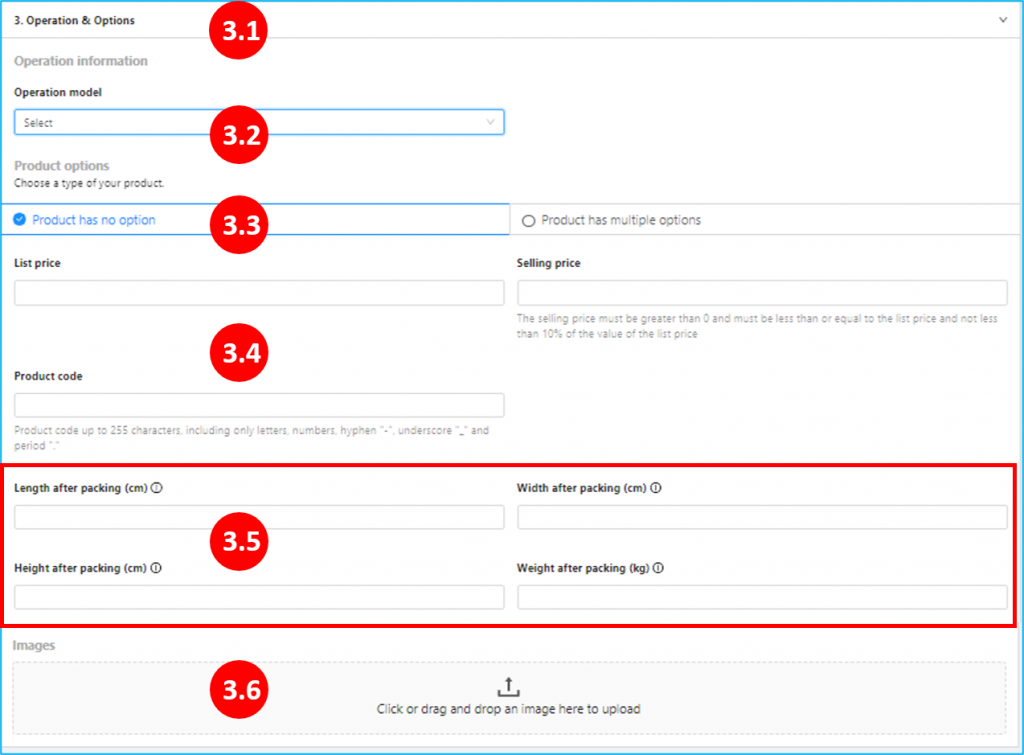 3.1 Operation model: Global Sellers choose Crossborder 

3.2 Product options: This is a new feature for products with multiple selections of basic attributes. In this section, Sellers have 3 options, when selecting products with multiple selections, screen will display as below:


3.3 List price and Selling Price: Selling price must be less than or equal to List price
3.4 Product Code up to 255 characters, including only letters, numbers, hyphen "-", underscore "_" and period ".".
3.5 Product parameters: Sellers need to fill in the exact parameters for the convenience of packing and charging shipping fees.
3.6 Image: Sellers can add images of products, and should use more than 7 images with size 1000×1000 pixels
4. Authentic Document

4.1 The Documents section is divided into 2 cases, on a case-by-case way to provide the types of documents:
The seller manufactures by themselves
The seller distributes the products
Note: The seller should pay attention to the instructions of the system for each type of  document.
If the product is an OEM, Seller no need to provide the authentic documents.
Step 3: Complete the listing process

After filling in all information, Sellers click on Create to list products or click on Save draft to save the information and update later.